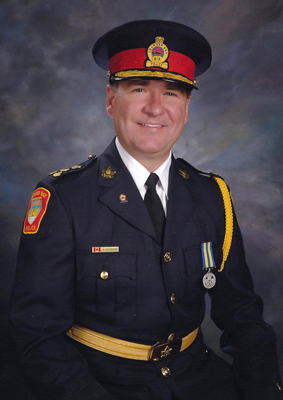 Chief's Video Message
To Serve and Protect are more than just words.  Each year, our officers respond to over 50,000 calls for service.
Many of those calls  involve people who are victims of crime seeking our help and support in difficult situations.
The men and women of The Thunder Bay Police Service, both sworn and civilian, are more than members of a law enforcement organization; they are also members of our community, contributing in many ways to the health and vitality of this great city we live in..
We are dedicated to the protection of your rights, especially the right to live in a safe and fair society.
The T.B.P.S. proudly offers policing services to the City of Thunder Bay and the
Municipality of Oliver Paipoonge.
I recognize that the challenges are many, but we are very fortunate to have partnerships with a vast number
of organizations, our municipal governments and concerned citizens like you.
We remain committed to building a safe community.
We're proud to be your police service!
J.P. Levesque
Chief of Police