Members of the Uniform Patrol Branch provide front line policing services to the citizens of Thunder Bay as well as contract policing services to Oliver Paipoonge.  Demand for these services remains high.  Every year our uniform officers respond to every imaginable emergency and non-emergency situation while at the same time providing a positive visible link to our community.
This branch includes Uniform Patrol, Emergency Task Unit, Containment Teams, Explosive Disposal, K-9, Call Back Unit and the Resource Unit.
---
General Patrol
Uniform Patrol is our first response to crime and disorder issues in our city. This highly visible unit handles thousands of calls for service each month. No matter what time of day or the weather, our officers on duty to serve with hounour and pride.
---
E.T.U.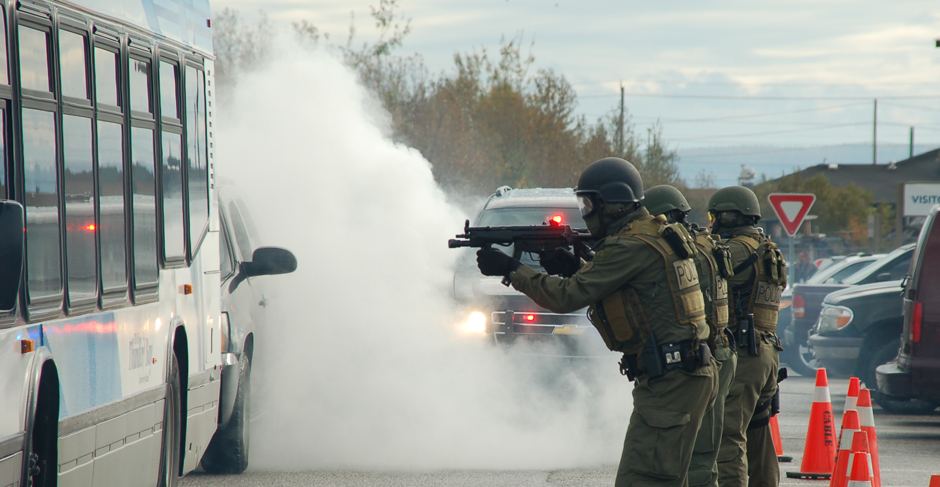 The Emergency Task Unit (ETU) is a full time hostage rescue unit that handles provides tactical expertise during critical incidents.  The training is rigorous.   In addition to their front line policing duties, members of this unit are called on to conduct ground searches for missing persons, resolving stand offs, high risk arrests and entry for search warrants.
---
Resource Unit - Front Desk
The primary contact points for the public and police occur either on the phone or in person at our headquarters at 1200 Balmoral Street.  Our Resource Unit assists the public in non emergency matters.
In 2011 a Call Back Unit was added to help in providing more appropriate responses to non emergency calls for service.  This unit responded to 2,610 calls for service which in the past would have required the assignment of a Uniform Patrol officer to take a report from a complainant.  The Call Back Unit was able to respond to these calls in a timely manner, improving customer service and assisting in alleviating the high demand for police during peak periods.